The Turnpike Road Pottery is closed.
The kiln has been torn down and the studio emptied of all pottery and equipment. The house is sold and we have moved to Wake Robin in Shelburne VT. A number of sculptures, both clay and bronze, will be available through Cynthia-Reeves in Walpole NH, and Ferrin Contemporary in North Adams MA. Sara, at 952 Lexington Ave in NYC, has the last of my pottery and flower arranging vessels.
Thanks for all of your support over the last 55 years, 47 of them in Marlboro.
The website remains as an archive. An online catalogue section has been added where a number of "flipbooks" offer additional archive content.
Malcolm Wright

An exciting note for collectors is the secondary market availability of some Malcolm Wright work. Recently 1stdibs.com presented a beautifully fired small sculpture made in 2003 and offered by a gallery in San Francisco.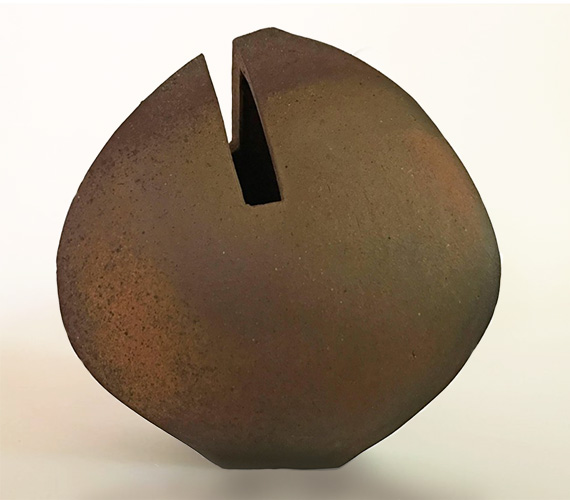 on click, goes to sculpture page, scroll down to 2003 for additional views of this piece




2018



New exhibit at Cynthia Reeves, Walpole NH. February 3 - March 3. Artist's reception February 3, 5 - 7pm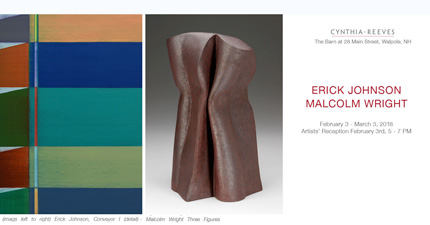 2017



Some very nice pieces (7, 4 of which are sculptures) from the estate of a collector available in an upcoming auction. (auction update: All pieces were sold! Congratulations to the new collectors.)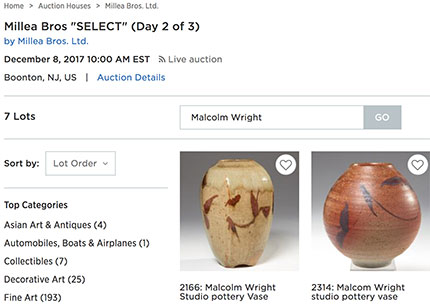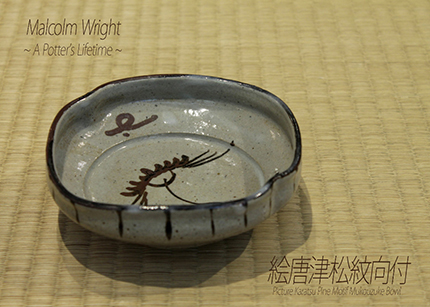 Malcolm Wright Ceramic Exhibition
A Potter's Lifetime

June 15th to 17th 2017
at Sara Japanese Pottery
950 Lexington Avenue New York, NY 10021

June 15th to 30th 2017
at SANNGA Project @ DAIICHI Arts
18 E 64th Street New York, NY 10065

15th to 21st everyday 12pm to 6pm,
22nd to 30th by appointment.
Please call (516) 727-6131 Nana Yamasaki
or sannga@yamma.jp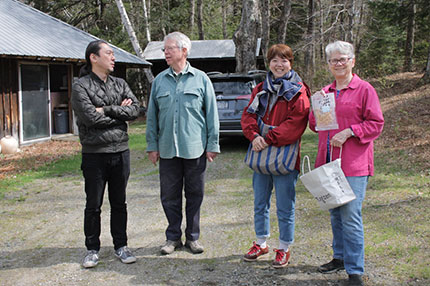 Read the story of the visit to the Malcolm Wright studio.


BIOGRAPHY ADDITIONS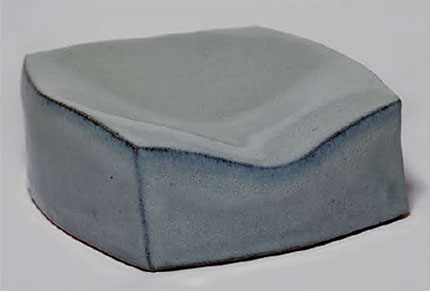 An article by Malcolm about Ceramic Pillows originally published in Studio Potter, Vol 11, No 1, is now available in pdf format by clicking on the title or image.

The following previously published catalogues listed in the biography section are now available for online viewing.
(click on either title to view)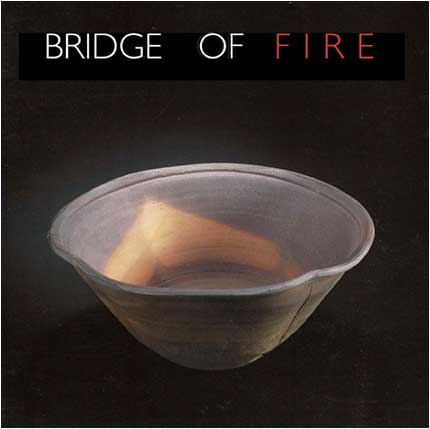 Bridge of Fire: Two Potters East and West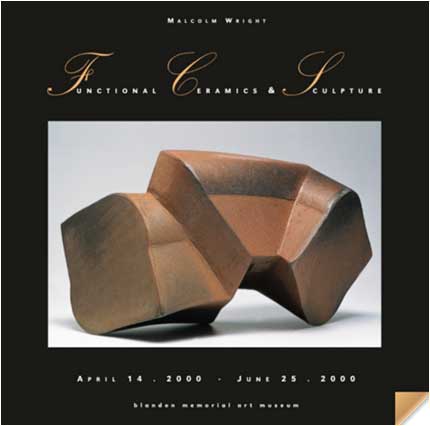 Blanden Memorial Art Museum



2016



WEB ARTICLE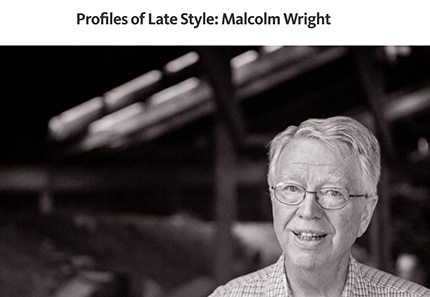 Departure and Discovery:
New Directions at the Apex of Creativity
A Special project of the Philadelphia Chamber Music Society in which Leah Hood profiles Malcolm Wright.


MAGAZINE ARTICLE





New England Home
September/October 2016
An article featuring the work of Malcolm Wright.
(click on image above to view pdf of the article)




2015



December 3-24
Gallery 44 Ceramic Sculpture Exhibition
David Powers, Mark Shapiro, Malcolm Wright
44 Main Street Amherst MA
Gallery hours: Noon to 7pm
Reception: Friday December 18, 5-7pm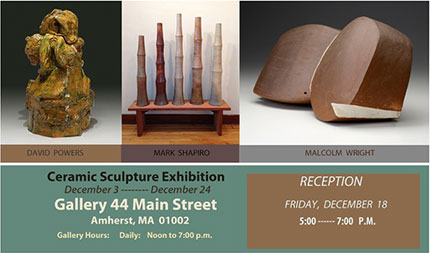 August 20 - September 27
Malcolm Wright, Shaun Wright, Petria Mitchell
Opening Reception: Thursday, August 20, 5 - 7pm
Sunday, August 23, 5pm:
ARTIST TALK: Sculptor, Malcolm Wright and photographer, Shaun Wright will talk about the process and vision for their work in this interview-style talk with artist and curator Craig Stockwell.






May 23 and 24


Spring Open Studio Weekend 2015


New sculpure in brickclay and bronze. New functional work too.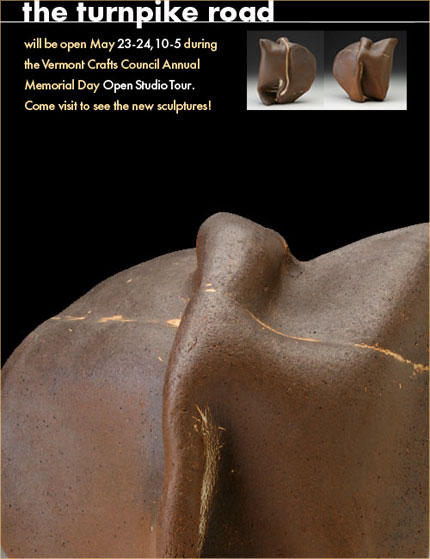 May 23 open 10-5
May 24 open 10-5
Open studios map and directions
View member page

March 21 - May 9
Divergent Currents: The Ripple Effect
of Japan on American Ceramic Artists
Clay Art Center
40 Beech Street
Portchester NY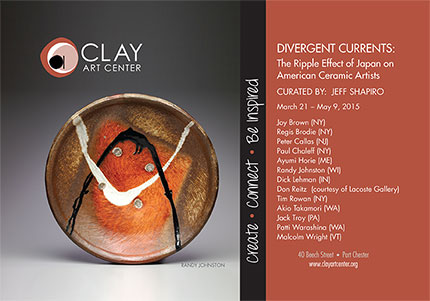 DIVERGENT CURRENTS is a national invitational exhibition curated by Jeff Shapiro. Featuring sculptural and utilitarian works by 13 artists who each have ties to Japan, this exhibition crafts a compelling manifestation of how Japan and its sensibilities have influenced contemporary American artists. CATALOG AVAILABLE



download Divergent Currents review

OPENING RECEPTION: Saturday, March 21, 6-8pm
COLLECTOR'S TOUR: Friday, April 24
Visit Joan B. Mirviss, Ltd Gallery and the Metropolitan Museum of Art.
SYMPOSIUM: Saturday, April 25, 1- 4:30pm
LECTURE: The Many Currents of Japanese Ceramic Aesthetic by Louise Cort, Curator of ceramics at the Freer & Sackler Gallery
PANEL DISCUSSION: Curator Jeff Shapiro, Joy Brown, Paul Chaleff and Ayumi Horie, moderated by author and curator Judith Schwartz, Ph.D.
WORKSHOPS:
March 21-22: Akio Takamori
April 26: Ayumi Horie

March 15-April 15


FROM POTASH:

Alumni, Faculty
and Students from Marlboro College.
Arch Contemporary Ceramics
18 East Road
Tiverton, RI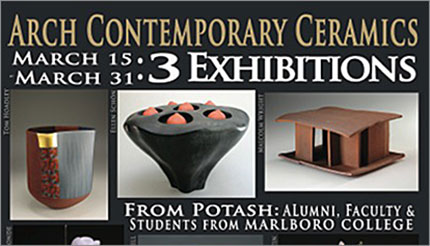 FROM POTASH is one of three exhibitions at Arch Contemporary.
It is part of the NCECA Bedford Arts Tour, Wednesday, March 25
OPENING RECEPTION: Thursday, March 26, 5-9pm



2014



May 16-18


Malcolm Wright: Tranformations into Bronze


Sara Japanese Pottery
950 Lexington Avenue
New York NY
Artist's reception: Friday May 16, 6-8pm
May 17th, Sat. 12 pm - 6 pm
May 18th, Sun. 12 pm - 6 pm

saranyc.com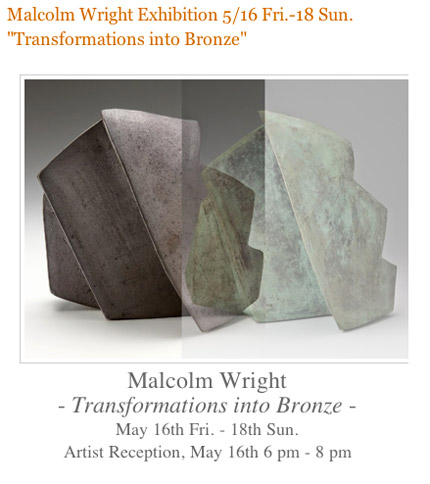 2013



Sept 28 - 29


Brattleboro West Arts Open Studio Tour


brattleboro-west-arts.com

October 12 - 20
Ty and Kiyoko Heineken's Studio Japan
42st Annual Open House
Open daily 11-6pm
Traditional Japanese Tansu Cabinetry
Invitational Pottery
Decorative Arts
4505 Route 27, Kingston NJ



2012



September 29-30
Brattleboro West Arts Open Studio Tour
brattleboro-west-arts.com

October 6-7
Vermont Craft Council Studio Tour
vermontcrafts.com

October 6-21
Ty and Kiyoko Heineken's Studio Japan
41st Annual Open House
Open daily 11-6pm
Traditional Japanese Tansu Cabinetry
Invitational Pottery
Decorative Arts
4505 Route 27, Kingston NJ
609.683.0938



2011





40TH ANNUAL HOLIDAY SALE


Saturday December 17, 1 - 4 pm
Malcolm Wright
The Turnpike Road Pottery
off MacArthur Road, Marlboro, VT
802.254.2168
Please call for directions.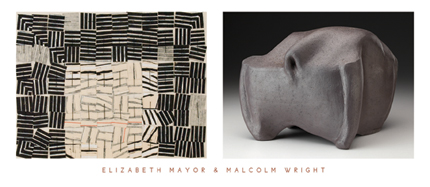 CYNTHIA REEVES NEW ENGLAND


57 South Main Street
Hanover, NH 03755
603.640.6155
cynthia-reeves.com

Elizabeth Mayor & Malcolm Wright
Paper & Thread / Bronze & Clay
July 16 - September 3
Artists' reception July 16, 6 - 8 pm
Artist's talk and demonstration with Malcolm Wright on
Friday, July 29 at 5:30 pm.
Gallery hours: Tuesday - Saturday 10 - 5 pm



COLLECTIVE - THE ART OF CRAFT


An artisan-owned and cooperatively-run gallery
featuring Malcolm Wright, potter and Bruce Peck, printmaker.
47 Central Street
Woodstock, VT 05091
802.457.1298
collective-theartofcraft.com

July - September
Monday - Saturday 10 - 5 and Sunday 11 - 4
Opening Party from 4 - 6 pm Saturday, July 2.
At 5 pm an informal Q & A with Malcolm Wright and
local ceramic collectors Anne and Harry Wollman.



BACK FORTY


The Art Complex Museum
40th Anniversary Exhibition
A selection of artists who have shown at the museum
over the last forty years.
May 1 - September 4
Reception - Sunday, May 22, 1:30 - 3:00



2010





39TH ANNUAL HOLIDAY SALE


Saturday, December 18, 1 - 4 pm
Malcolm Wright
The Turnpike Road Pottery
off MacArthur Road, Marlboro, VT
802.254.2168
Please call for directions.

February 13 - March 12
Opening February 13, 3 - 5 pm
Joint show with Michael Boylen, landscape plates and tiles.
Malcolm Wright showing clay and bronze sculptures.
Drury Gallery
Marlboro College
Marlboro VT
Gallery hours: Sunday - Friday 1 - 5 pm
Closed Saturdays except February 13



2009



Heinekens Studio Japan
October 10 - 18
110 Main Street
Kingston, NJ 08528
609.683.0938

The Art School at Old Church
December 4,5,6th
561 Piermont Road
Demarest, NJ 07627
201.767.7160
tasoc.org



2007



Ceramic Sculpture: Fire and Ash
September 22, 2007 - January 6, 2008

Lucy Lacoste, Curator

Fuller Craft Museum
455 Oak Street
Brockton, MA 02301
508.588.6000
Open daily 10 am - 5 pm
Wednesday until 9 pm

fullercraft.org


Spheris/Hanover

October 20 - December 6

59 South Main Street
Hanover, NH 03755
603.640.6155
Tuesday - Saturday: 12 - 6 pm
spherisgallery.com
Review



2005



November, 2005

ID The International Design magazine, November, 2005 issue, "Dining in the Rough", an American Potter finds inspiration in traditional Japanese craft by Ernest Beck. pp.104 - 105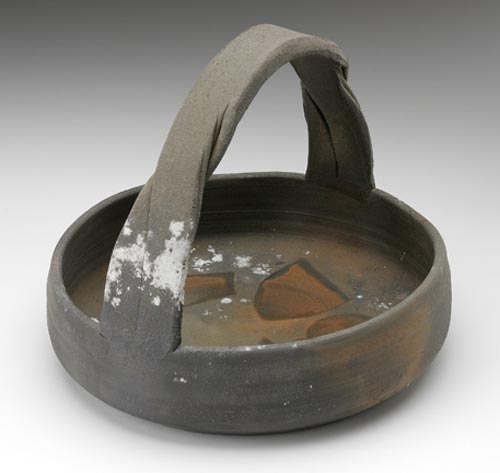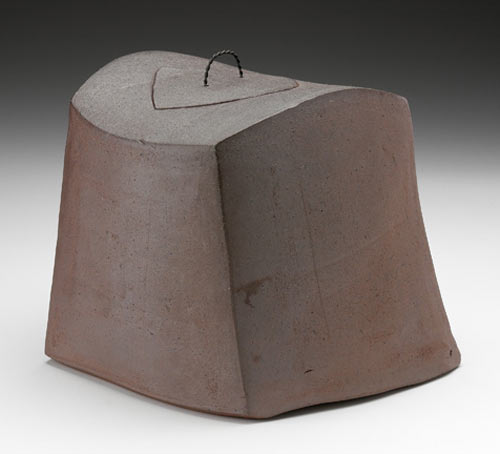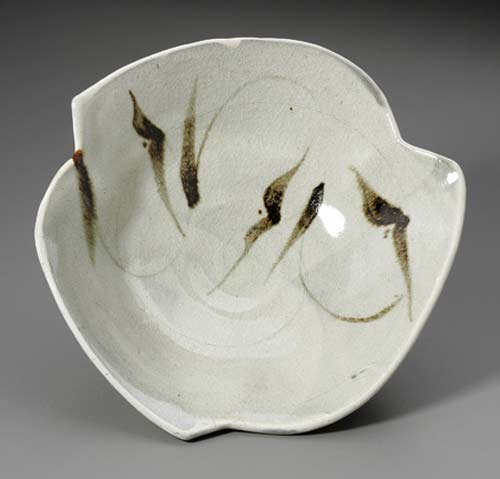 top: BASKET (with box), native clay, 7.5 x 10 x 9.5 in., made in Karatsu, 1991.
center: MIZUSASHI, brick clay, 7 x 8 x 7 in., made in Vermont, 2003.
center: MEDIUM BOWL, white slip with wood ash glaze, stoneware
3.25 x 10 in., made in Vermont, 2000.

July 11 - 30, 2005
"Connecting through Clay, Karatsu Pottery"

Felissimo Design House and Sara proudly present Karatsu Pottery
10 West 56 Street
New York, NY 10019
Malcolm Wright, Takashi Nakazato, Hanako Nakazato, Taki Nakazato
Opening reception: July 11, 6:30 - 8:30
Additional events include demonstrations by Takashi and Hanako on July 11, a panel discussion on July 18, 6:00 - 8:30 pm and on July 25, four sessions of tea. Please inquire at Felissimo Design House (800.565.6785) about these events.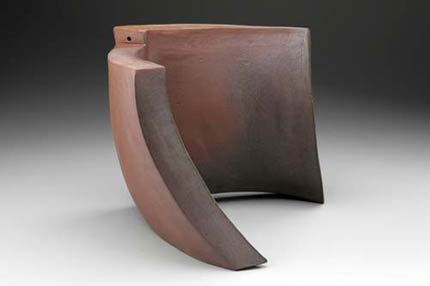 Open Book #1, woodfired brick clay, 11 x 18 x 12", 2004

April 30 - May 26
Opening: Saturday, Ap[ril 30, 6 - 8 pm Malcolm Wright, sculpture and Ray Ruseckas, paintings
Spheris Gallery,
59 The Square,
Bellows Falls, VT.



Malcolm will be participating on a panel at the studio of blacksmith James Garvey this April 11th in New York. Co-sponsored by Sara Gallery and the Asia Society, the event is a very limited participation event. Information on specifics should be addressed to the co-sponsors.

Malcolm is also a participant in the Baltimore Clayworks exhibit "ENDLESS VARIATIONS: SHINO REVIEW 2005" concurrent with the NCECA conference in Baltimore, the exhibit opens February 19 and continues to April 3, 2005 and focuses on artists using the Shino glaze in their work.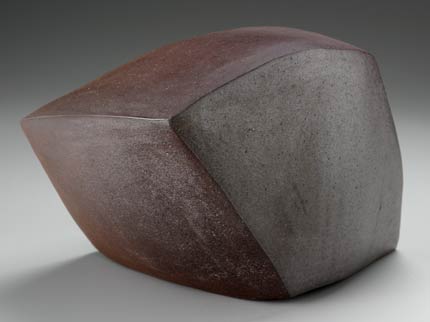 ABOVE: Soft Cube Form, 2003. From "Chalk and Clay" at Reeves Contemporary, NY.

"Chalk and Clay"
January 20 - February 19, 2005
Malcolm Wright, Sculpture
Ray Ruseckas, Painting
Reeves Contemporary
535 W 24th Street, 2nd Floor
New York, NY
Artists' Reception, Thursday, January 20, 6 - 8 pm




2004



September 15, 2004 - January 9, 2005
"The Naked Truth"
2004 International Wood Fire Conference
at the Cedar Rapids Museum of Art,
Cedar Rapids, IA

July 2 - September 6, 2004
"Creations in Clay: Contemporary New England Ceramics"
Currier Museum of Art, Manchester, NH


"The Language of Wood: woodfired clay"
W.D.O.
A Contemporary Craft Gallery
214 North Tryon Street
Charlotte, NC


May 29 - 30, 2004
Vermont Crafts Council
Twelfth Annual
Open Studio Weekend
from 10 - 5 each day

www.vermontcrafts.com for complete information






ABOVE: Malcolm and Hanako Nakazato at work.
BELOW: recently fired wares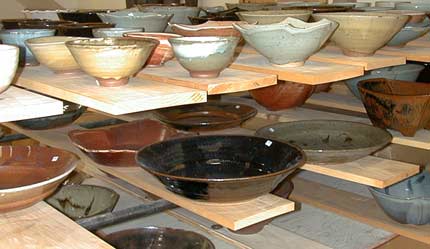 March 5 - March 30, 2004



2003





"DENSE"

- "13 and one half pots" by Malcolm Wright, from a firing in March 2003 at Hikarigama, Hiroshi Ogawa Pottery, Elkton, Oregon. In addition to Malcolm Wright's clay "DENSE" also features the works of Jay Swift, Mary Boochever and Matt Harle in stone, gold and rubber. Malcolm will be present for a gallery talk with Mary and Jay on March 27 from 1:30 - 5:30.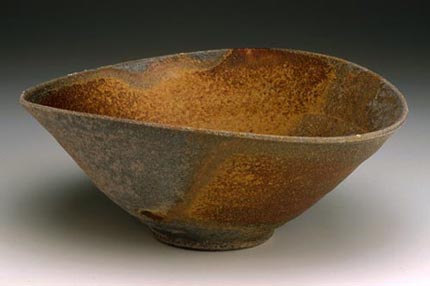 Sept. 13 - Dec 31, 2003


Malcolm Wright:* Outer Shapes, Inner Spaces


Internationally acclaimed Marlboro, Vermont ceramic artist Malcolm Wright has departed from his elegant glazed vessels to create multipart unglazed forms in this site-specific installation of recent ceramic work. He delights in presenting these to us in a variety of positions.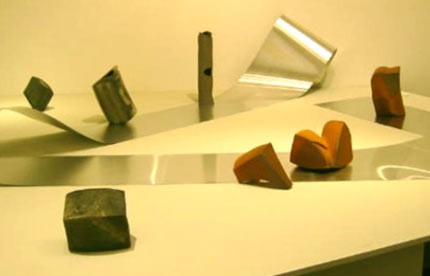 Brattleboro Museum and Art Center
10 Vernon Rd.
Brattleboro VT 05301
802.257.0124
www.brattleboromuseum.org

Oct. 11, 12, 2003


"Working with Extruders in the Search for Form"


IS183, Art School of the Berkshires
413.298.5252

November 1, 2, 2003


Extruder Workshop


Mudflat Studio
Somerville, MA
617.628.0589